The latest beorg release introduces an encryption extension. You can now encrypt individual tasks/items in beorg to secure confidential information. There are also some great productivity boosters for everyday use.
Encryption
beorg saves everything in plain text files to give you piece of mind that you can get access to what you create now and well into the future. You can choose where in the cloud your data gets synced to - iCloud, Dropbox, Box or your own server. Now you can opt to encrypt individual items so that even if your beorg plain text files somehow got into the wrong hands your confidential information stays only viewable by you.
beorg now includes OpenPGP symmetric encryption. Basically that means you can protect individual items using a password. An encrypted item keeps its title, date, priority, tags and properties in clear text (i.e. not encrypted) - but any notes and subitems are rendered nonsensical if you don't have the password.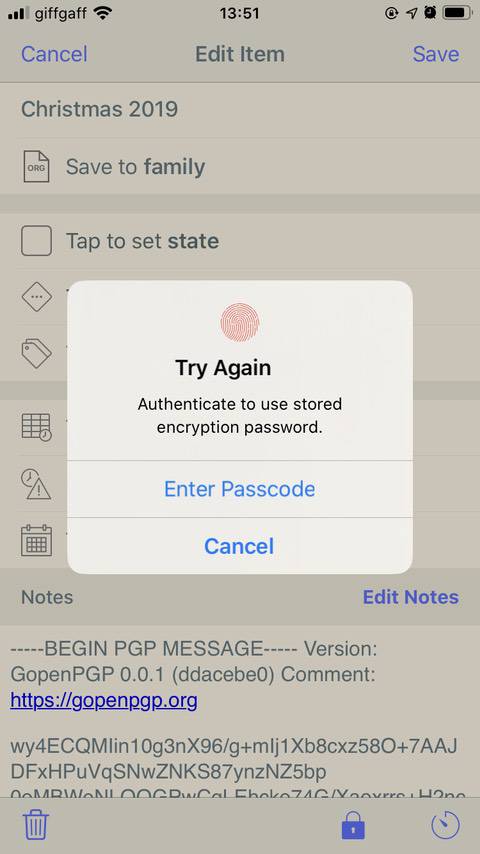 To get started with encryption you need either a beorg Premium subscription or to purchase the Encryption extension.
Select an item/task from the Agenda or Tasks tab and tap the padlock button at the bottom of the screen.
The first time you use encryption you'll be asked to supply a password. beorg doesn't restrict the password in any way - it's up to you to choose something secure and memorable.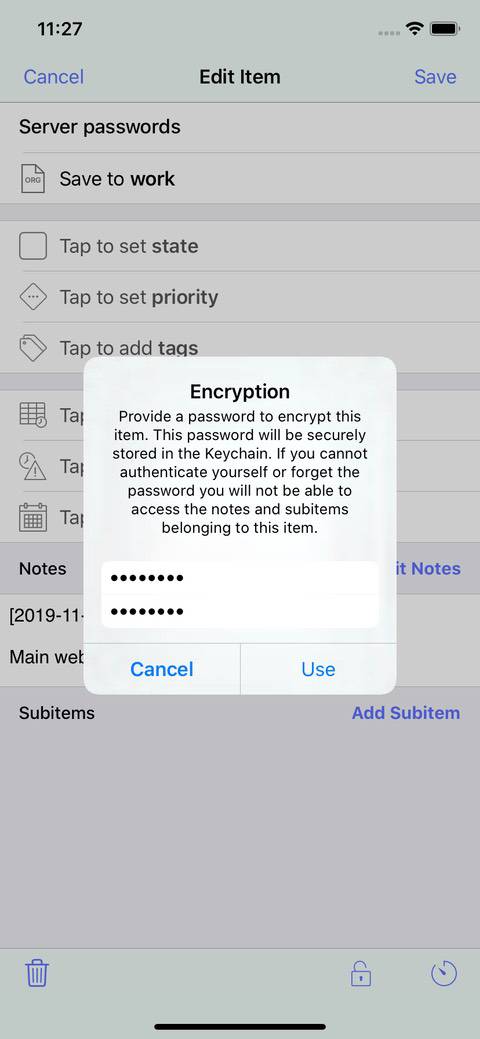 The password you entered will be saved in the iOS Keychain - a secure area on your device used by many apps to securely store passwords and other secrets. If you have a device with Touch ID or Face ID you'll be able to then access this password using your fingerprint or face.
To decrypt an item just tap the padlock and then authenticate yourself. If you've authenticated yourself in the last five minutes then you won't be asked immediately to do so again.
For more details about encryption in beorg see beorg.app/encryption.
Adding multiple tasks
A great productivity boost for everyone in beorg 3.4 is an improvement to adding multiple tasks in one go.
Once you've added all the details for a task simply tap the "Save +" button at the top of the screen and get going on adding another.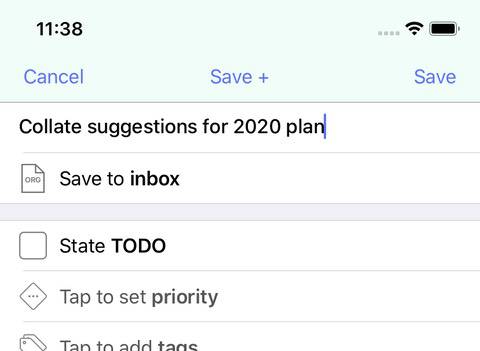 Even better - if you are a big user of templates then "Save +" will remember you were using a template. I use this with my "Today" template to quickly plan what tasks I need to get done today that aren't already in my agenda. "Save +" gets me going even quicker.
Default template
The Quick Capture button in beorg can now use a saved template without having to swipe up and choose the template.
To set a template as the default, edit the template and then tap the 'star' next to the save button. The next time you tap the Quick Capture button this template be used.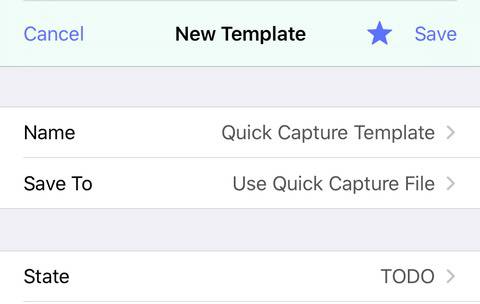 Searching notes
This has been a much requested feature. The Agenda and Tasks search can now look through notes (prior to this update text search was limited only to an item's headline/title.)
To tell beorg to search for something in an item's notes just tap "Notes Contain" on the search toolbar above the keyboard and then enter what you'd like to search for.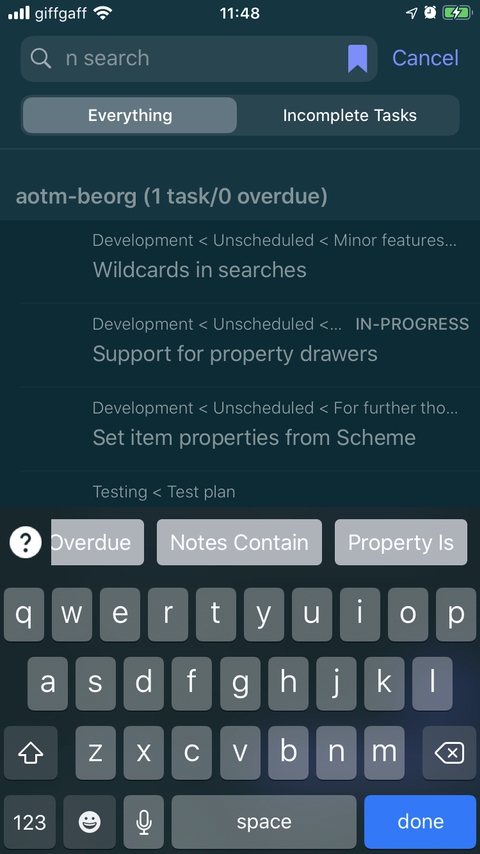 Other improvements
As always there are some less noticeable changes, including:
Improvements to accessing saved searches
The TODO tab is now Tasks
Fix for an issue where certain characters at the start of a file could lead to the wrong file encoding being deduced
Supporting beorg development
I'm an indie app developer and rely on people purchasing beorg Premium subscriptions, buying beorg extensions and tips to fund development.
Help get the word out about beorg by mentioning it on Twitter, Reddit or even better in a blog post.
If you would like to suggest how beorg could be improved visit the beorg forum and join the community.